Bike Hire
Bicycles, Accessories
We offer Road bikes, Urban bikes and associated equipment and cater for individals as well as small groups .
Bicycle hire commences at $45, in addition to a bicycle we will provide you with a:
Helmet (Compulsory by NZ law)
Map
Lock
Also available, at no extra charge, are safety vests if required.
Our bikes are regularly serviced and tested for your comfort and safety and with our recommended routes you, your family and friends will predominantly cycle on cycle paths, cycle lanes and quiet roads.
Please always contact us to make a reservation.
For full details and hire rates please click on the images below.
Bikes:
Road Bikes - Older models
Pre-2019 bikes.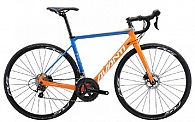 Road Bike - Carbon
2019 Avanti Corsa SL
Hybrid Bike
Scott Sportster, Sub Cross
Accessories: