Frequently asked questions
Friends of Cycle Auckland
Bike Hire Questions, Tour Questions, Links
How do I get to Devonport?
If you are staying in Auckland City the easiest way is by ferry. Ferry's leave approximately every half hour from Pier 1, Ferry Terminal, Quay Street, Auckland City and return at similar intervals. The trip takes 15 minutes.
Bus – The bus stops right outside the entrance to the Ferry Terminal, just catch any bus to 'Devonport Wharf.'
Car – Devonport is a 30 minute drive from the Auckland CBD. There is plenty of council car parking available directly outside the Wharf.
Bike Hire Questions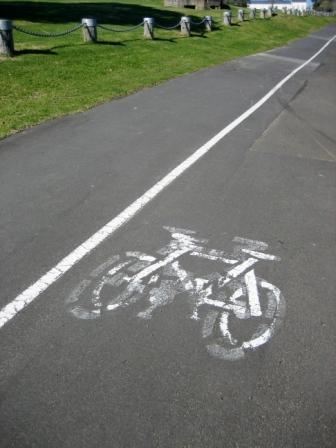 Q: Is there a lot of traffic?
A: No, Devonport is one of the safest places to ride on the North Shore and is very bike friendly. There are over 20 kilometers of dedicated cycle lanes in the area and plenty of secluded beaches and grassy hills to explore without having to worry about road traffic. The only point to remember is that New Zealanders drive on the left hand side of the road. Therefore if you take your bike on a road that doesn't have a dedicated cycle lane you must remember to keep hard left.
Q: Do I Need to Book a Bike?
A: We have a large fleet of bikes so generally there is no need to book. If there is a large group of you, 8+ or have special requirements such as child tag-alongs, then we'd recommend booking ahead during the busier summer months.

Q: Do you have bikes for children?
A: Yes, we have a baby seat for 1-3 yr olds, Tag-alongs for 4-8 yr olds, kids Mountain bikes for 8-12 yr olds. Adult bikes are suitable for children over the age of 12.
Tag-alongs are for children who are used to riding their own bike. These attach onto the back of an adult bike so they can pedal along with you.

Q: Do I have to wear a helmet?
A: Helmets are compulsory in New Zealand, your safety is paramount.

Q: Do you provide a map?
A: We provide a map with all bike hires, we can also show you the top spots to see in Devonport and the best way to get there.

Q: Do you provide a lock?
A: Yes, all our bikes come with locks for your convenience.

Tour Questions
Q: Do I need to book for a tour?
A: Yes, bookings are essential. We accept both web, phone and email bookings.
Please contact us on: +64 9 445 1189 or info@cycleauckland.co.nz

Q: What should I bring for a Devonport tour?
A: All you need is some comfortable shoes you can ride in. Bikes and helmets are provided.

Q: Do I have to be really fit for a Devonport tour?
A: The route and bikes are designed to cater for a wide range of people. A moderate level of fitness is required as there are some hills in the area. The views from North Head and Mt Victoria are definitely worth it.
Links to friends of Cycle Auckland
Cycle Action Auckland, a voice for Auckland Cyclists
Segway Tours, Devonport
Woodhill Bike Parks, 150km's of mountain bike tracks
MTB's for sale and hire plus great coffee